Memorial Day: Honoring sacrifice and welcoming summer
Posted by Janet Weyandt on Wednesday, May 26, 2021 at 9:54 AM
By Janet Weyandt / May 26, 2021
Comment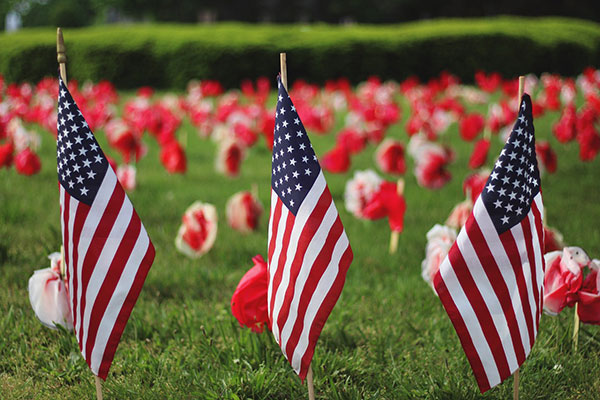 Happy Memorial Day!
Monday is Memorial Day, the day we remember and mourn all those who died performing military service for this country.
Last year, the traditional Memorial Day events we look forward to were canceled because of the pandemic, but this year, many local events are back on the calendar. Of course, most of us look at Memorial Day as the first weekend of summer, a time to kick back, enjoy a three-day weekend, grill out or (weather permitting) hit the beach.
Before any of that, however, let's remember the purpose of the day.
It was originally called "Decoration Day," because of the post-Civil War tradition of decorating the graves of fallen soldiers.
The tradition of wearing red poppies on Memorial Day was inspired by the World War I poem, "In Flanders Fields," by John McCrea, which puts into words the devastating loss the war caused. It begins:
"In Flanders fields the poppies blow
Between the crosses, row on row,
That mark our place; and in the sky
The larks, still bravely singing, fly
Scarce heard amid the guns below.
We are the Dead. Short days ago
We lived, felt dawn, saw sunset glow,
Loved and were loved, and now we lie,
In Flanders fields."
Memorial Day is a somber occasion, which often gets lost in the revelry of parades, cookouts
and start-of-summer parties. There's nothing wrong with parades and parties! But perhaps thereis room for both solemn remembrance and fun in a three-day weekend.
And if you are attending a parade on Memorial Day this year - or Fourth of July or any other day - please remember to stand when a color guard passes. That means a military formation carrying the American flag as well as other flags. Standing is a show of respect for the flag, for those who died to protect it and for the United States.
Happy Memorial Day!
Local Memorial Day events:
Plymouth
11 a.m. Monday, May 31 at Plymouth High School Football Field. There is no parade this year. Bring your own lawn chairs. Band will be in the home bleachers, audience will be (socially distanced) on the football field.Drive thru brat fry at P.J. Campbell's at the Depot after the ceremony. Please support Ladwig-Zinkgraf American Legion Post 243.
Sheboygan
Parade begins at 9 a.m. downtown Sheboygan followed by a ceremony at Fountain Park, including tributes to veterans and active-duty men and women, musical performances and moment of silence. In addition, brat fry begins immediately after the parade at Fountain Park; 100 percent of proceeds go to Triple Nickel Post 555, American Legion and Sheboygan & Marine Corps League Detachment 1446
Sheboygan Falls
9 a.m. Monday, May 31, Sheboygan Falls Cemetery. The American Legion Motorcade will leave Madison Street facility and caravan to Wisconsin Street and then to Fond du Lac Avenue, ending at Sheboygan Falls Cemetery. A brief program to follow. Attendees should stay in their vehicles.
Adell
Parade begins at 11 at the bank and ends at the park where a ceremony will follow, including tributes to veterans and active-duty service members, speeches, music and a moment of silence.
Cascade
Memorial Day Service put on by the Cascade Legion starts at 10 a.m. outside the Lions Club featuring guest speakers. Brat Fry including drinks, potato salad, and pork and beans to follow the ceremony. Raffle drawings will take place throughout the brat fry.