Looking for fun? Go someplace weird!
Posted by Janet Weyandt on Wednesday, May 12, 2021 at 3:34 PM
By Janet Weyandt / May 12, 2021
Comment
Weird places to go in Wisconsin
The world is opening up, people are getting vaccinated and after so long in lockdown, it might be difficult to narrow down the first few places to go once you're comfortable road-tripping again.
To help out, here are 10 weird places to visit in Wisconsin, adapted from travelwisconsin.com. Start packing!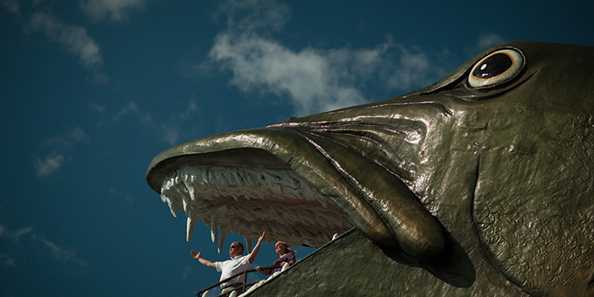 World's largest fish, Hayward, Wisconsin

.
The giant fiberglass musky marks the Freshwater Fishing Hall of Fame. At 4.5 stories tall, the musky is as long as a Boeing 757. Want to take a closer look? You can walk into the tail and make your way to an observation platform in the fish's open jaw.
For more: https://www.travelwisconsin.com/history-heritage/national-fresh-water-fishing-hall-of-fame-203834





It might not sound that odd, but when you see goats grazing on the sod roof of Al Johnson's Swedish Restaurant for yourself, you'll stop and stare awhile, guaranteed. The goats have become a major tourist draw, and now have their own online "goat cam" and a "roofing of the goats" parade in June.


For more: https://www.travelwisconsin.com/restaurants/al-johnsons-swedish-restaurant-198569




Pinkie the Elephant, DeForest, Wisconsin.
Travelers on I-90/94 in need of gas should definitely get off at Highway V and look for Pinkie the Pink Elephant at the nearby Shell Station. This behemoth fiberglass sculpture, styled with hipster black-rimmed glasses, is hard to miss. What started as a way to get customers to the gas station has evolved into the perfect selfie spot.
For more: https://www.roadsideamerica.com/tip/1645




World's Largest Six Pack, La Crosse, Wisconsin.
What's more Wisconsin than this? The World's Largest Six Pack is actually a set of metal beer tanks constructed in 1969 by the G. Heileman Brewing Company (the original brewer of Old Style) for inventory storage. Now owned by City Brewery and re-designed to look like a six pack of La Crosse Lager, they contain the equivalent of 7,340,796 cans of beer.
For more: https://www.travelwisconsin.com/entertainment-and-attractions/worlds-largest-six-pack-239718




Mars Cheese Castle – Kenosha, Wisconsin.
Anybody who has driven east on I94 toward Chicago has seen the castle along the way. If you haven't stopped, make it a point next time. There you'll find every kind of cheese (including the very best fresh squeaky curds), Wisconsin-themed gifts, a very eclectic and complete beer and wine selection, even a deli. You'll take home goodies you would never be able to think of yourself. Don't forget to grab a kringle while you're there! For more: https://www.marscheese.com/




World's Largest Talking Loon, Mercer, Wisconsin
They call her Claire. Claire d'Loon. At 16 feet tall and 2,000 pounds, she makes a statement even when she's not singing. And oh yes, she sings. That's what they say when she makes her loon sounds for visitors getting a selfie with her.
For more:https://www.roadsideamerica.com/story/1192




Sputnik Crash Site, Manitowoc, Wisconsin
On Sept. 6, 1962, a 20-pound piece of Soviet spacecraft Sputnik IV crashed into the middle of Manitowoc's main drag. The city has celebrated this strange occurrence ever since, including creating Sputnikfest in September and housing the piece of space trash in the Rahr-West Art Museum.
For more: https://www.roadsideamerica.com/story/12959




Rock in the House, Fountain City, Wisconsin
Rock in the House is exactly what it says it is. The 55-ton boulder rolled down a hill on April 24, 1995, and wedged itself inside the home's master bedroom, where it remains today. A savvy local realtor purchased the house and turned it into a one-of-a-kind open house.
Don't be misled! This is not House on the Rock in Spring Green, another famous architectural gem with eclectic collections worth checking out.
For more:https://www.travelwisconsin.com/tours/rock-in-the-house-203435




Dr. Evermor's Forevertron, North Freedom, Wisconsin (near Devil's Lake)
Behind the salvage business in this little community sits a collection of outsider art created by one Dr. Evermor (yes, he's a real person). The old pieces and parts from the salvage gig were the inspiration for his sculpture garden. The centerpiece? Forevertron, a 400-ton, 50-foot scrap metal sculpture often recognized as the largest in the world.
For more: https://www.travelwisconsin.com/museums-galleries/dr-evermors-forevertron-198057




Concrete Park, Phillips, Wisconsin
This incredible display was created by a man named Fred Smith, who decided when he retired to commemorate his many careers - lumberjack, tavern owner, farmer and dance hall musician - by constructing folk art with no training whatsoever. Concrete Park is made up of roughly 200 hand-made sculptures made from countless materials.
For more: https://wisconsinconcretepark.org/